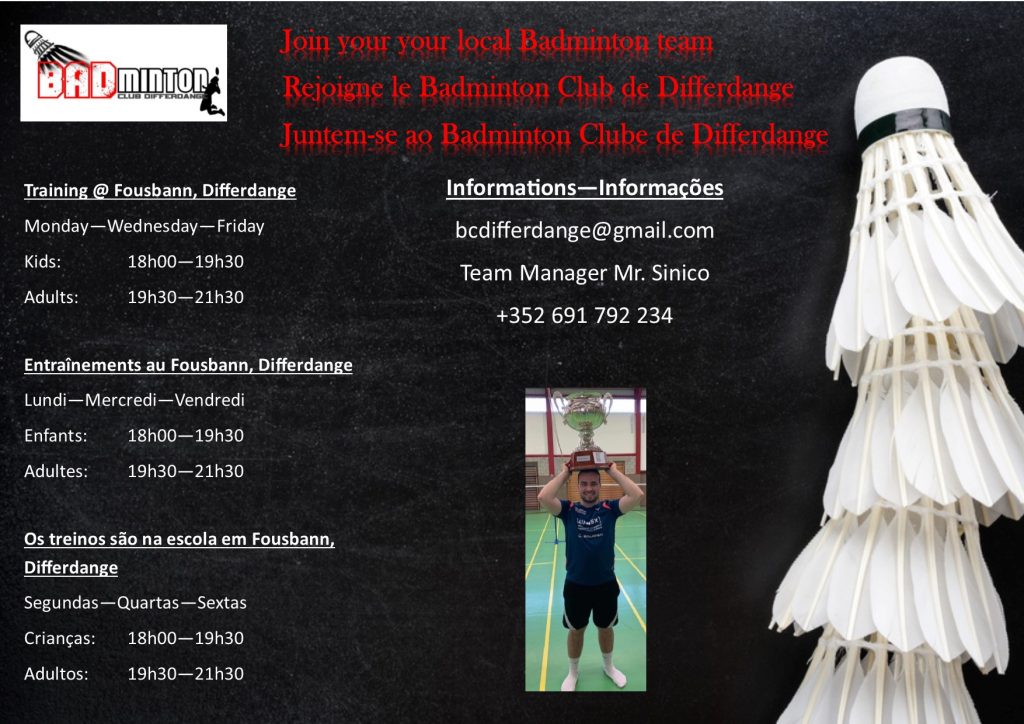 Diff 3 gewënnt den Challenge 2019
Badminton Club Differdange signed a partnership with Lunex University in Differdange.
This partnership gives all Lunex students free access to our training sessions.
BC Differdange is very proud of having such a great partner on its side !
Den 21. Dezember 2018 haat de BC Déifferdeng seng AGO 2018 am Auditoire vun der Lunex.
D'Assemblée Générale as en engem harmoneschem Kader iwwer d'Bühn gaang.
Mär begréissen och dann elo nei am Comité d'Caro Wagner, d'Sandrina Stoltz, d'Claudine Krippler an de Yann Kockhans.
Doniewt bedankt de Club sech bei sengem laangjähregen Comités Member, Sekretärin an Trésorière Chantal Schmitz – Kridel.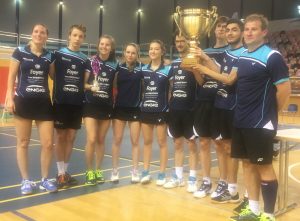 Le Badminton Club Differdange remporte la Coupe du Luxembourg 2018
Dimanche dernier, les équipes de Kayl, Junglinster, Feulen et Differdange se sont données rendez-vous à la Coque pour le final-4 de la Coupe du Luxembourg 2018.
Après avoir battu Kayl 5-1, Differdange a pu assurer son ticket pour la finale. L'adversaire Junglinster a battu de son côté Feulen en demi-finale 5-0.
Differdange a fait les premiers points en finale en gagnant le double homme, composé de Mathieu Pohl et David Jaco (ancien champion belge) et le double fille, composé de Zoé Sinico, actuellement championne U17 et de Debbie Janssens.
Junglinster a néanmois pu revenir dans le match en gagnant le simple dames ainsi qu'un simple hommes pour jouer le mixed décisif.
David Hammes, capitaine de l'équipe differdangeoise et sa partenaire Debbie Janssens ont pu gagner ce match décisif contre Maxime Szturma et Marie Goedert dans 3 sets très serrés.
"Tout le club est très fiers de notre équipe", note le Président Tom Jager. "Nous avons pu construire une équipe très talentueuse avec nos jeunes talents et avec quelques joueurs expérimentés de niveau européen".
Cette Coupe du Luxembourg 2018 est le premier titre majeur dans l'histoire du BC Differdange.
Composition de l'équipe BC Differdange
Messieurs:
Mathieu Pohl
David Jaco
David Hammes (c)
David Brassel
Felix Tastet
Patrick Keil
Dames:
Zoé Sinico
Debbie Janssens
Vanessa Barbieux
Magalie Kemp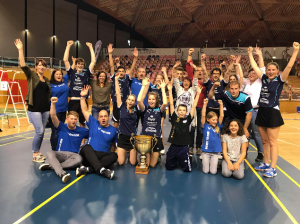 Eenzel Jongen U11: Plaatz 1 Noah Warning
Eenzel Jongen U13: Plaatz 2 Sinico Mike
Eenzel Jongen U13: Plaatz 3 Hild Pol
Eenzel Jongen U15: Plaatz 3 Tastet Félix
Eenzel Jongen U19 : Plaatz 3 Hammes David
Eenzel Meedecher U9 : Plaatz 1 Felten Mandy
Eenzel Meedecher U11 : Plaatz 2 Mara Beni
Eenzel Meedecher U11: Plaatz 3 Shirine Rahmoun
Eenzel Meedecher U13 : Plaatz 1 Ajsela Licina
Eenzel Meedecher U17 : Plaatz 1 Sinico Zoé
Eenzel Meedecher U17: Plaatz 3 Sofia Campos Almeida
Dubbel Jongen U11: Plaatz 1 Noah Warning/Dries Coucke
Dubbel Jongen U13: Plaatz 1 Sinico Mike/Pol Hild
Dubbel Jongen U15: Plaatz 1 Tastet Félix/Pauquet Jérome
Dubbel Jongen U19: Plaatz 2 Hammes David/Braun Andreas
Dubbel Meedecher U11: Plaatz 1 Rahmoun Shirine/Mara Hafner
Dubbel Meedecher U11: Plaatz 3 Wirard Lynn/Felten Mandy
Dubbel Meedecher U13: Plaatz 1 Beni Mara/Barretta Tara
Dubbel Meedecher U17: Plaatz 2 Campos Sofia/Shana Pauquet
Dubbel Meedecher U17: Plaatz 3 Kemp Magalie/Natascha Sadler
Dubbel Meedecher U19: Plaatz 1 Sinico Zoé/Jungerwirth Lisa
Mixte U11 : Plaatz 1 Warning Noah/Mara Beni
Mixte U11 : Plaatz 3 Rahmoun Shirine/Feltes Tom
Mixte U13: Plaatz 1 Sinico Mike/Ajsela Licina
Mixte U13: Plaatz 3 Hild Pol/Tara Barretta
Mixte U17: Plaatz 1 Sinico Zoé/Jonsson Tobias
Landesmeisterschaft 2018
Eenzel Damen A : Plaatz 3 firt Zoé
Dubbel Damen A : Plaatz 3 firt Zoé mam Lisa (Junglinster)
Dubbel Hären B : Plaatz 2 fir den David mam Thomas (Izeg)
Dubbel Damen B : Plaatz 3 firt Sofia ant Hélène
Dubbel Damen C : Plaatz 2 firt Magalie ant Caroline
Mixte C : Gold fir Caroline an den Yann
Eenzel Hären D : Gold fir den Félix